Lenzerheide, Switzerland
December 13 - 18, 2016
Escape the pre-holiday bustle. Work where snow is silently falling.
Time to be creative. Time to move from idea to action.
Retreat from the pre-holiday bustle and take a time out to think and create what matters to you. In Lenzerheide you'll find space to be creative and to take your ideas forward. Meet people to discuss and shape your vision with. We're here to help you to put your thoughts into words, build structures and make plans to move from ideas to actions, from dreams to reality.
Kurhaus welcomes you to a contemporary experience in a many layered historic hotel.
Explore this fabulous location!
Situated in the very centre of Lenzerheide it is easily accessible by public transport as well as by car. See map.
Book by November 29!
Not quite sure yet? Talk to Isabelle to find out more!
When?
Come and join us for any 3 or more nights/days between Sunday 13 and Friday 18 December.
How much?
Working week (5 nights)
CHF 900
Short week (3 nights)
CHF 540
Extra night
CHF 180
What's included?
Hotel & Leisure
Accommodation in single room. Double room on request.
Full board, including 4 course dinner
Daily yoga & meditation classes.
Discount on day ski passes (CHF 35 instead of 75).
Working Environment
A relaxed and inspiring working environment close to nature.
Creative material
Diverse work spaces with fast wifi, coffee, tea and fruit.
A group of like minded folk to bounce ideas with and share knowledge
A host making sure you find the right structure and support for your work.
A day at Alpine Co-Working
At Alpine Co-Working we are here to help you get things done and enjoy the best of the Alps. Therefore, we offer a daily routine that works well for many of us.
7 am Yoga (60 minutes)
Take an hour to wake up and gather energy for the day while doing something great for your back and neck.
8 am Mindfulness Meditation (20 minutes)
Very simple meditation exercises help you to put your attention where it should be. Practice full concentration and complete relaxation.

8.30 am Breakfast & Intention Setting
Share your goals, plans and needs to make this an awesome working holiday.

9.30 am Work or Ski Slot
Need help focusing? Your host is happy to share some ideas.
Fresh powder? No guilty feelings! Take the morning off!
12.30 pm Lunch & Sunshine Time
We'll have a good hot soup ready for you.
Great time to exchange on a particular topic with one of your co-workers or tap into their diverse experience.
If you worked all morning it's high time to get a good dose of daylight and fresh air! Take at least a 30 minute walk. You'll be back with a happy back and a clear mind. Walking is equally great for thinking up big stuff, consider this work time!
2 pm Back to work
Keep up the good work! There's always a little fruit and plenty of fresh mountain water to keep you energized.
3 pm Last call for outdoor sports!
1 more hour of daylight! Had a short lunch? Take a cross-country skiing break now!
4 pm Tea Time
Need an energy boost and a friendly chat? Step outside and take a breath. A slice of walnut tart would be perfect now, wouldn't it?

5 pm Work Wrap Up or Wellness Break
Whether you've been working all afternoon or had a sports break, take 90 more minutes to finish today's tasks and plan the next day.
Enough? How about treating yourself to a time out at the hamam or sauna?
7 pm Dinner & Sharing
Relax and reenergize over our delicious 3 course dinner at the brand new restaurant Corner. Time to share what you achieved today, but also time for sharing stories, experiences and laughs.

8.30 pm Collaboration Slot
Would you love to get some feedback on your new website? Would you benefit from a collective brainstorming session? Curious to learn about everyone else's life & work hacks?
10 pm Grand Finale
An early night, more work, meditation or just a relaxed hour of reading. Enjoy your favourite late evening routine that sets you up for a good night's sleep and a splendid fresh new day.
However, you are always free to do what feels best to you.
Whether this means to work late and get up late or to take the day off and go skiing. There's no rule saying you have to follow the schedule or participate in group activities. Just be considerate towards your co-workers and we'll have a great time for sure!
What is special?
We enjoy the comfort of a historic hotel with contemporary feel and great hospitality.
The meeting pool. Have you ever worked out of a (former) swimming pool?
Sports & outdoors:
A great variety of ski slopes (225 km), long cross-country tracks (56 km) as well as a ice skating and snowshoeing. All in walking distance or accessible with free ski bus.
Lenzerheide is easily accessible by public transport and offers a nice variety of shops.
Who is it for?
Freelance workers
Teams who need to concentrate on their projects
Employees who can work remotely for a period of time
Entrepreneurs with no time to go on vacation
Anybody that want to combine work and play!
How many people?
Expect a cozy group of 5 to 15 co-workers plus a handful of hotel guests including a bunch of artists setting up their light art installations for famous "Zauberwald" festival starting on December 18.
What do people work on?
Jana and Lukas are creating content for a workshop series. They discuss and brainstorm on long walks in the snow.
Marcus and his team are working on product innovation. They enjoy the playful working environment of the meeting pool.
Susanne is taking a 3 day time out to write down her strategy for 2016.
Reto needs to finish a concept and enjoys the calm and relaxed atmosphere away form end-of-year haste.
These are just a few examples of how you could use Alpine Co-Working at Kurhaus.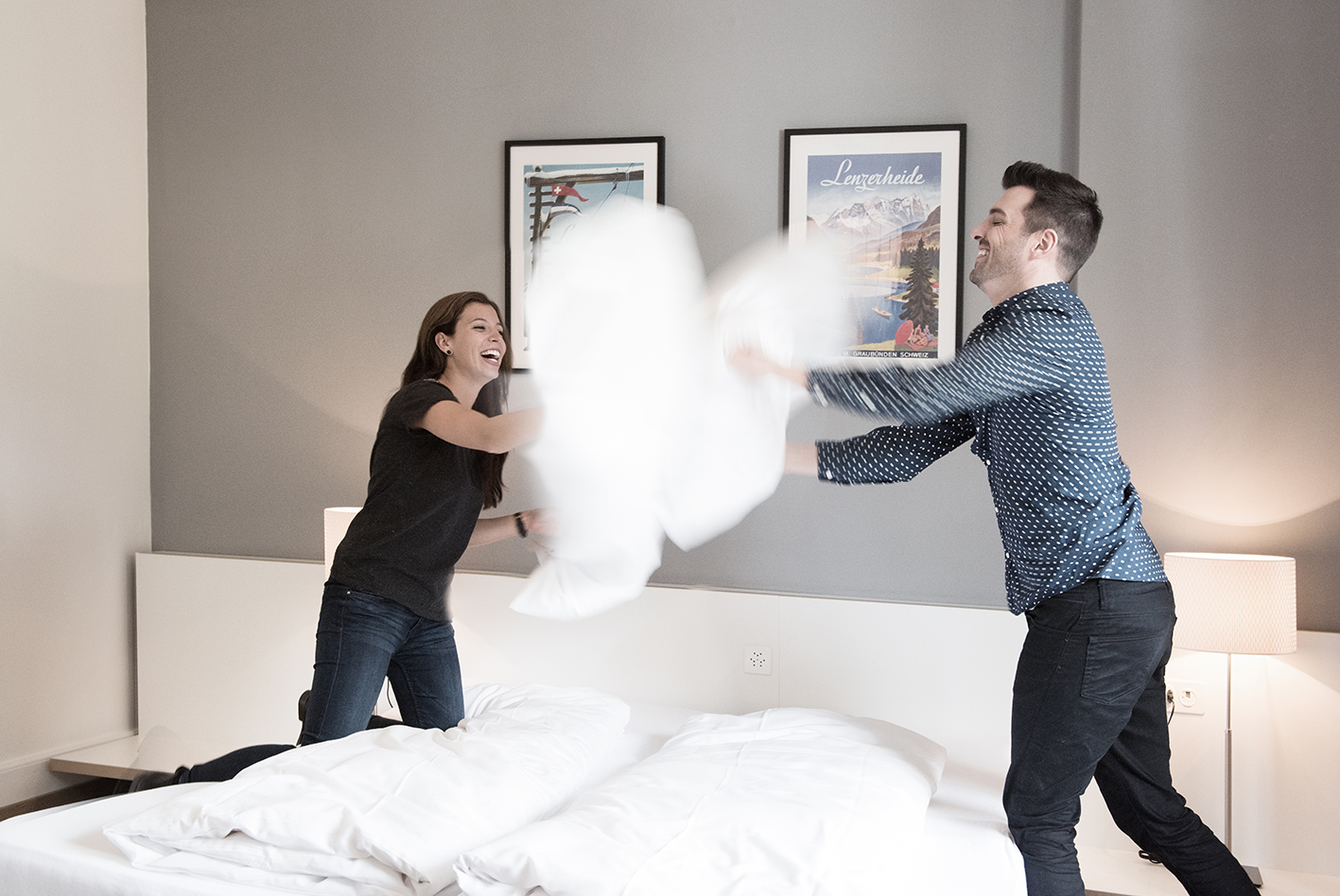 Book now and work watching snowflakes soon!
Need more info? Talk to Isabelle! Drop her a line on hello@alpinecoworking.com or call +41 79 623 51 71.
Credits
Pictures courtesy of Kurhaus Lenzerheide (mood and hotel shots) & Isabelle Behrens (nature and work shots).